Red Energy partnered with Breast Cancer Network Australia in 2015 to lend support to Australians affected by breast cancer.
Our partnership with BCNA enables us to contribute, support and collaborate with what is a very personal cause to many Australians particularly BCNA's network of supporters.
Our mission is to raise awareness of the support BCNA provides, so no one has to go through breast cancer alone.
Throughout the year and beyond we continue to work closely and support BCNA on their calendar of community events. We're especially proud to be a Major Event Partner of BCNA's annual Pink Lady Match, which takes place on the grounds of the MCG around mothers day. Words can't describe how it feels to stand on the G and pay tribute to the 18,200 men and women who will be diagnosed with breast cancer each year.
50 Australians are diagnosed with breast cancer every day.
Breast Cancer Network Australia (BCNA) is incredibly proud of our five year partnership with Red Energy. Red Energy are a very community focused organisation and have supported BCNA in a number of ways including as one of our major corporate partners and supporting events such as the Pink Lady AFL Matches and Pink Lady Luncheons. In 2018 BCNA celebrated its 20th anniversary with the Field of Women at the MCG, and we are very grateful to Red Energy for helping us make this significant event possible. These events build awareness for the work that we do across the community and help raise much needed funds to support more than 18,200 Australians that will be diagnosed with breast cancer this year. We could not ensure all Australians affected by breast cancer receive the very best information, treatment and support in every part of Australia without their passion and support for us. Thank you Red Energy, we are so grateful for your support. If you or someone you love has been affected by breast cancer then we are here for you – call our Helpline on 1800 500 258.
- Kirsten Pilatti, BCNA Chief Executive Officer
This means the absolute world to us. BCNA are a network of the most incredible and the most beautiful people and for us to have the privilege of standing on the field with almost 20,000 in the 20th year was one one of the most deeply moving experiences. We have 1,200 employees in Victoria and in addition to that over 1/2 million bills being produced with BCNA pink on them. The support for the BCNA has been overwhelming, as it should be. This is the most amazing organisation and after 20 years it's stronger now and it will be stronger next year.
- Iain Graham, Red Energy Chief Executive Officer
Pink Bun morning tea at Red Energy & Field of Women videos
The risk of being diagnosed with breast cancer by age 85 is 1 in 8 for women and 1 in 631 for men.
A collection of event photos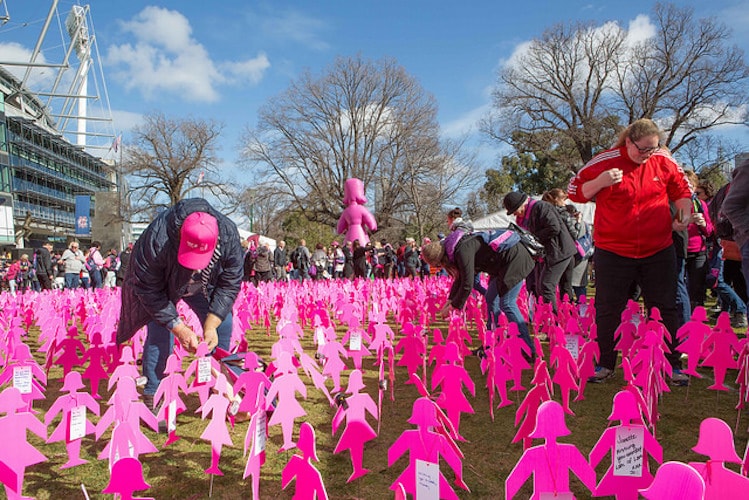 The number of people being diagnosed with breast cancer in Australia is increasing; however the number of deaths from breast cancer is decreasing.