Power of Choice
In December 2017, new national metering rules come into effect that will progressively change the way you think about your electricity meter. You will have been used to your energy distributor being responsible for looking after your meter. However from December for customers in New South Wales, South Australia and Queensland, Red will be taking care of new meter installations such as for new connections, and replacement of your meter due to age or fault.
If you are a Red customer and your meter requires replacement we will arrange to have a new smart meter installed at your home. If you already have a smart meter, our partnered metering service providers will be responsible for its testing, maintenance and security.
The difference between a basic meter and a smart meter
Basic meters measure your usage from one point in time to another and are usually manually read every three months.
Smart meters record your energy consumption every 30 minutes and if you have the communications turned on will send your usage data to us. This means that we are able to send you timely and accurate bills, it also gives you flexibility to receive bills monthly.
Benefits of a Smart Meter
Billing based on reads, not estimates
With the remote communication functionality of a smart meter we no longer need a manual reading to bill you accurately. This means an end to estimated billing, and that's great if you have any issues with access to the meter at your property.
Choose to receive your bill monthly
Smart meter data will enable us to send you a bill based on your actual usage monthly. Monthly billing is a great way to help manage your household budget.
Move easier, move cheaper
Smart meters make moving a whole lot easier with more precise connection and disconnections and in Victoria where smart meters are the norm, moving home has become cheaper, with no more manual reads. No need for a manual reading means the change can be managed remotely – provided that there is a smart meter at your new home.
Future benefits
Smart meters collect electronic usage data every 30 minutes. We are developing new products and services to provide access to information to improve how you manage your usage and also provide you with more flexible billing options.
When you have to get a smart meter
Outside of Victoria under the new regulations a smart meter is to be installed for all new meters and meter replacements (due to age or fault of the meter). Distributors will advise us when a (non-smart) meter needs to be replaced due to age.
Does my new Smart Meter have to have remote connectivity
The communication device in the smart meter that allows for remote reading of the meter can be turned off. However doing so means a technician will have to be sent out to read your meter manually. The cost of the technician visiting your house will be passed on to you as an extra charge on your electricity account.
E-billing
Get your bill in your inbox instead of your letterbox. It's easy with us, make the change today.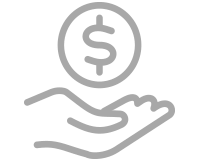 Direct Debit
Setting up Direct Debit is easy. Plus, with Red you won't be charged any fees for paying by credit card.