Australian Capital Territory energy concessions
The Australian Capital Territory (ACT) Government provides an energy concession and rebate to eligible customers with a view to help with the cost of energy bills.
Utilities Concession
The Utilities Concession is calculated on a daily basis with rates depending on the season. From 1 July 2021, the annual concession amount will permanently increase to $750. In the 2021-22 financial year an additional $50 rebate will also be provided to eligible households, resulting in a total concession of $800.
The daily rates from 1 July 2021 to 30 June 2022 will be based on a total concession of $800. The daily summer rate for the Utilities Concession will be approximately 101.887 cents per day from 1 November to 31 May and the daily winter rate will be approximately 381.699 cents per day from 1 June to 31 October.
To be eligible for this concession, you must hold one of the following current concession cards:
Centrelink Pensioner Concession Card; or
Centrelink Low Income Health Care Card; or
Veteran Affairs Pensioner Concession Card; or
Gold Card from the Department of Veteran Affairs (Prisoner of War, War Widow, Totally Permanently Incapacitated(TPI) Embossed)
Eligibility for the Utilities Concession also requires you to:
Be a permanent resident in ACT at the address for which the relevant electricity account is held; and
Be the customer whose name appears on the relevant electricity account; and
Provide details of the concession card to the retailer.
If you are eligible but not currently receiving the above concession please apply online, login and apply with MyAccount, or contact us on 131 806.
Life Support Rebate
The Life Support Rebate is aimed at alleviating the financial stress of households with a member who uses an eligible life support machine. The rebate provides eligible individuals with an annual rebate amount which has been determined as $128 for 2020-2021. This will be applied to the eligible electricity bill as a daily rate of approximately 35.068 cents per day. Only one Life Support Rebate can be claimed per household.
Eligibility
To be eligible for this rebate you are required to provide the following on a yearly basis:
a form signed by a medical practitioner which confirms that an individual of the household is required to use any of these medical equipment:

dialysis machine
oxygen concentrator
respirator
CPAP regulator
longstay life support
nebuliser
LS reference
TPN device
other apparatus subject to approval; and

proof that the eligible individual resides in ACT at the address for which the relevant electricity account is held.
If you are a concession card holder with an eligible condition requiring medical heating and/or cooling, you may be entitled to the Life Support Rebate.
If you are eligible but not currently receiving the Life Support rebate, please speak to our award winning Customer Solutions team on 131 806, Monday to Friday 8.00am to 8.30pm and Saturday 9.00am to 5.30pm AEST. For further information about Life Support protection, click here.
Non-Government or Community Assistance
We understand that sometimes we need a little help and not everyone is eligible for government assistance. Non-government or community assistance is generally available through a local community service provider, such as a community welfare organisation or financial counsellor. To locate a help centre near you, please visit National Debt Helpline.
Below is a list of some not for profit organisations you can contact to obtain more information on other assistance available to you.
Concessions
Submit an eligible concession card today to receive energy concessions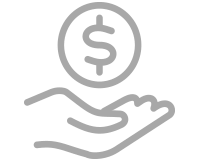 Direct Debit
Setting up Direct Debit is easy. Plus, with Red you won't be charged any fees for paying by credit card.