Energy concession and rebate information – South Australia
South Australian energy concessions
Energy bill concessions
To help with the cost of energy bills a state government concession is available to eligible South Australians on low or fixed incomes. The energy concession is to cover both electricity and gas payments (including LPG bottled gas) for up to $233.60; the daily rate will therefore be $0.640 for the 2021-22 financial year.
Eligibility
To see if you are eligible for an energy concession, visit the South Australian Department of Human Services (DHS) website. If you're eligible for this concession, your application needs to be submitted directly to DHS.
Medical heating and cooling concession
This energy concession assists South Australians on a fixed or low income who have a clinically verified medical condition which requires the frequent use of heating or cooling in the home to prevent the severe worsening of their condition.
The Medical Heating and Cooling Concession is currently up to $233.60 for the 2021-22 financial year.
It is available to eligible applicants in addition to the current energy concession. If you're eligible for this concession, you will need to visit the DHS website.
You can also contact DHS by phone on 1800 307 758.
Non-Government or Community Assistance
We understand that sometimes we need a little help and not everyone is eligible for government assistance. Non-government or community assistance is generally available through a local community service provider, such as a community welfare organisation or financial counsellor. To locate a help centre near you, please visit National Debt Helpline.
Below is a list of some not for profit organisations you can contact to obtain more information on other assistance available to you.
Emergency Electricity Payment Scheme
You may be able to get an Emergency Electricity Payment Scheme (EEPS) payment if you're at risk of your electricity being disconnected. EEPS is only accessible through financial counsellors, who will assess your financial situation before lodging an application. You can only receive an EEPS payment once every three years.
Please visit the SA Government Financial Aid website for more information.
Concessions
Submit an eligible concession card today to receive energy concessions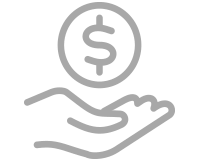 Direct Debit
Setting up Direct Debit is easy. Plus, with Red you won't be charged any fees for paying by credit card.