What EvenPay™ is
EvenPay™ is a great way to help smooth energy bills out over time. Instead of paying larger amounts less frequently, you pay the same amount in more frequent, but smaller, increments – helping to make paying your bill more manageable. We do this by estimating your payments to try and balance them with your estimated annual usage. The rates you pay for electricity and, or, gas, don't change as a result of choosing EvenPay™.
You're in control
With EvenPay™ you're in control. You have the choice of weekly, fortnightly or monthly direct debit payment options and you can even align payments to when your salary, or benefits, gets paid to you. You will know what amount is coming out and when.
What happens if your energy use changes?
We will review your account every 6 months and if your usage indicates a difference with your current expected usage we'll get in contact to advise you of your new amount and confirm the frequency is still OK. And don't worry – just because it's a review it doesn't mean the payment amount always goes up – if you're using less energy, then the payments you need to make to cover expected usage may decrease too.
Availability and getting EvenPay™
EvenPay™ is available to eligible customers of Red Energy in Victoria, New South Wales, Queensland and South Australia. To talk with a consultant on getting EvenPay™ on your account, the frequency that suits you and how much you'll pay give us a call on 131 806.
At Red Energy we strive to ensure that our customers are aware of all the options available – it's another benefit of being with Red. Call us on 131 806 today to arrange EvenPay™ and for the full terms and conditions.
E-billing
Get your bill in your inbox instead of your letterbox. It's easy with us, make the change today.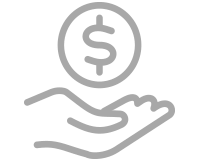 Direct Debit
Pay by Direct Debit to make sure you get your Pay on Time™ discount off your entire energy bill if you're eligible.